Kiedy trzeba leczyć ząb kanałowo i jak wygląda takie leczenie?
Jakie mogą być konsekwencje nie wykonania leczenia kanałowego ?
Dlaczego czasami trzeba leczyć ząb  kanałowo ponownie?
Czym może się pochwalić klinika Zubar w tej dziedzinie?
 Leczenie Kanałowe
Kiedy pacjent zgłasza się do lekarza z silnym bólem zęba, to oznacza, że taki ząb jest poważnie chory i leki przeciwbólowe ani antybiotyki nie pomogą. Najczęściej jest to skutek i powikłanie długo utrzymującej się próchnicy w zębie. Skoro jednak już doszło do tak zaawansowanej postaci choroby nie ma wyjścia, ząb trzeba przeleczyć endodontycznie.
Chore zęby stanowią poważne ognisko infekcji i są potencjalnym zagrożeniem dla całego organizmu. Wyleczony kanałowo ząb może funkcjonować w organizmie jeszcze przez wiele lat, spełniając swoje podstawowe funkcje: żującą i estetyczną.  Zaniechanie leczenia prowadzi w krótkiej perspektywie do jego utraty. Zastąpienie usuniętego zęba za pomocą implantu lub mostu protetycznego jest oczywiście możliwe, ale jest rozwiązaniem droższym niż leczenie kanałowe.
Lekarz wykonujący leczenie kanałowe musi usunąć chorą miazgę, zdezynfekować i poszerzyć kanały korzeniowe , przygotować do wypełnienia i zamknięcia specjalnym materiałem. Tę procedurę należy przeprowadzić raz i skutecznie, a ostateczny pozytywny efekt leczenia lekarz widzi na zdjęciu rtg w postaci wypełnionych do końca przewodów korzeniowych.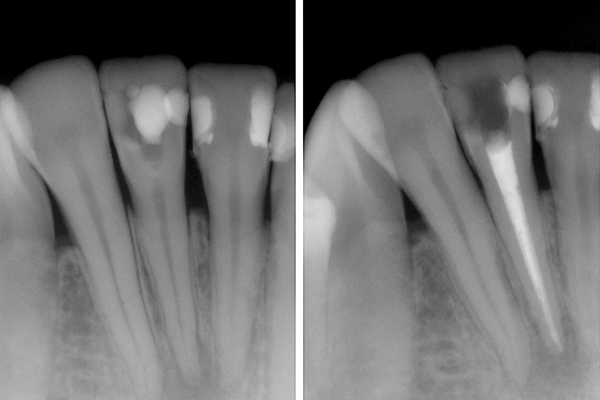 Zdjęcie RTG zęba przed i po leczeniu kanałowym.
Bardzo często w naszej praktyce leczymy zęby, które w przeszłości były już leczone endodontycznie, ale częste pobolewania i obraz na zdjęciu rtg świadczą, że leczenie nie powiodło się do końca. Trudno winić o to lekarza. Z pewnością starał się to zrobić dobrze, ale prawdopodobnie nie dysponował mikroskopem i nie był w stanie zobaczyć wszystkiego. Trzeba wiedzieć, że leczenie wewnątrz zęba jest ekstremalnie trudne. System korzeniowy zęba trzonowego to nie szerokie i proste rurki, ale coś co przypomina raczej system korzeniowy drzewa – kanały rozgałęziają się i zakrzywiają w różnych kierunkach!
W ostatnich latach w  tej dziedzinie stomatologii dokonał się ogromny postęp.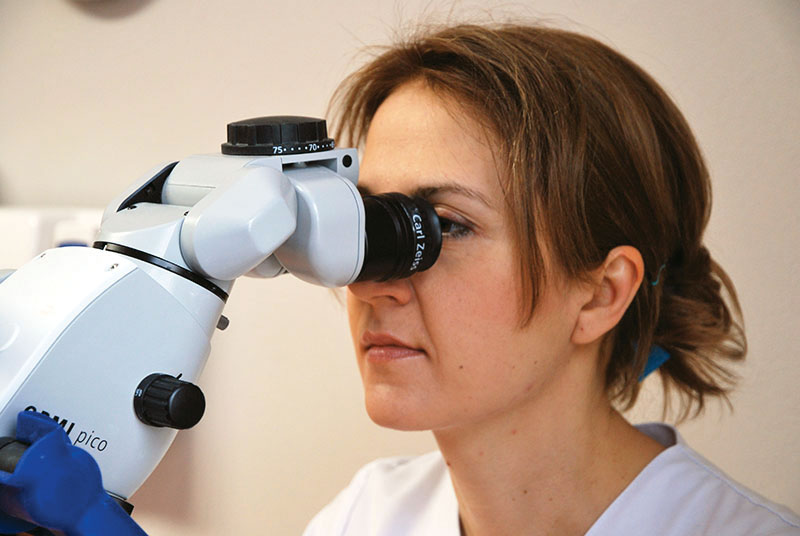 Klinika Stomatologiczna ZUBAR dysponuje nowoczesnym zapleczem diagnostyczno-leczniczym, umożliwiającym przeprowadzenie leczenia kanałowego zgodnie z najwyższymi, obowiązującymi współcześnie standardami. Umożliwia nam to:
mikroskop stomatologiczny, który daje lekarzowi możliwość wglądu do wnętrza kanału
endometr – urządzenie do elektronicznego pomiaru długości kanału,
radiowizjografia – cyfrowy rentgen zębów,
skaler endodontyczny, mikrosilnik endodontyczny i narzędzia do mechanicznego opracowywania kanału, które skracają czas zabiegu
system do wypełniania kanałów gutaperką na ciepło, jedyną zalecaną dziś metodą wypełniania kanałów korzeniowych.
Nasi lekarze specjaliści endodonci z sukcesem leczą najtrudniejsze, powikłane przypadki: usuwają złamane narzędzia, zamykają perforacje i udrożniają niedostępne kanały.
Cieszymy się, że w naszym zespole od lat, jest dr Magdalena Ignatowicz – Gniecka, która jest wybitnym specjalistą w swojej dziedzinie i potrafi skutecznie wyleczyć przypadki z pozoru beznadziejne. Uratowała już wiele zębów przed usunięciem, a ich właściciele cieszą się nimi do dzisiaj.
Nie zwlekaj! Jeśli masz ząb wymagający leczenia kanałowego, zgłoś się do nas już dziś. Na bezpłatnej konsultacji, lekarz endodonta zaproponuje plan leczenia i przedstawi jego kosztorys. Każda zwłoka może spowodować ryzyko wystąpienia powikłań i niepotrzebnie podrożyć koszt zabiegu.