Poznaj nasz zespół lekarzy implantologów
Dowiedz się jak przebiega leczenie implantologiczne w Klinice Zubar
Pierwsza wizyta: konsultacja z lekarzem prowadzącym.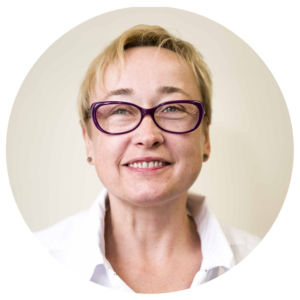 Leczenie protetyczne z użyciem implantów zębowych przebiega w kilku etapach.
W Klinice Zubar lekarzem prowadzącym jest zawsze doświadczony lekarz protetyk- implantolog: dr Barbara Staniszewska lub dr Katarzyna Lipniacka
Na pierwszym spotkaniu lekarz wstępnie ocenia możliwość zastosowania implantów, kieruje pacjenta na badania radiologiczne , zbiera informacje o ogólnym stanie zdrowia pacjenta. Jeśli nie ma wyraźnych przeciwwskazań, można przejść do drugiego etapu.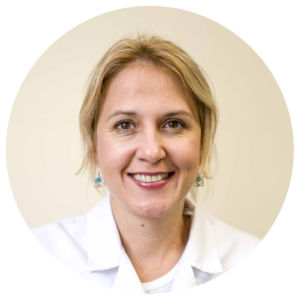 Odpowiedzi na pytania najczęściej zadawane przez pacjentów, w temacie IMPLANTY ZĘBOWE.
Co to jest implant zęba?
Implant zębowy to tytanowa śruba, którą wkręca w kość szczeki lub żuchwy lekarz implantolog , w miejscu po utraconym zębie. Zabieg jest stosunkowo krótki i bezbolesny i przeprowadzony w znieczuleniu miejscowym. Następnie implant musi się wgoić , zintegrować z kością, co trwa przeciętnie 3-5 miesięcy. Jest to tzw. część chirurgiczna leczenia.
Po niej następuje etap protetyczny, kiedy lekarz protetyk przy pomocy specjalnego łącznika dokręconego do implantu, zaopatruje implant w koronę protetyczną. Dopiero teraz pacjent może się cieszyć z posiadania nowego ładnego zęba. Jak widać leczenie implantologiczne trochę trwa i jest rozłożone w czasie. Również koszty leczenia rozkładają się w czasie. Pacjent płaci za wykonane poszczególne etapy leczenia.
Czy to prawda, że implanty często się nie przyjmują?
Uważam, że ta obiegowa opinia jest nieprawdziwa. Statystyki określają skutecznoś
tej metody leczenia na 95% przetrwałych implantów w pierwszych pięciu latach od wszczepienia a w ciągu 10 lat na 94 %. To bardzo dobry wynik, biorąc pod uwagę, że nie ma zabiegu medycznego w 100% skutecznego a pojęcie powikłań jest nieodmiennie związane z medycyną. Wchodzą tu w grę trudności obiektywne oraz czynnik ludzki. Zasada jest jedna : im lepsza sytuacja wyjściowa, im lepsze warunki do implantacji, tym większa szansa na powodzenie leczenia.
Implantów nie należy się obawiać, to prawdziwe osiągnięcie i przyszłość współczesnej medycyny!
,,Implant, to rozwiązanie bardzo drogie w porównaniu z tradycyjnymi protezami… ?"
Moim zdaniem są tylko trochę droższe od tradycyjnych rozwiązań. Prześledźmy typowy problem protetyczny : brak jednego zęba.
Do tej pory leczeniem z wyboru był most protetyczny. Brakujący ząb był dowieszony do dwóch koron pokrywających sąsiadujące zęby. No tak, ale te zęby trzeba oszlifować, czyli pomniejszyć tak, by zrobić miejsce na koronę. A jeśli są to zęby żywe, zdrowe, często pozbawione wypełnień? Szkoda okaleczyć takie zęby, prawda? Implant jest tu jedynym rozsądnym rozwiązaniem! Porównując koszty tych dwóch rozwiązań okaże się, że most składający się z 3 koron jest tylko trochę tańszy od korony na implancie w miejscu brakującego zęba a korzyści ogromne. Chronimy swoje, zdrowe zęby !
A co będzie, jeśli implant się nie przyjmie?
To się zdarza , choć stosunkowo rzadko. W takiej sytuacji lekarz implantolog usunie śrubę tytanową a zagłębienie po niej wypełni specjalnym materiałem o działanie kościotwórczym. Na bazie tego specjalnego materiału odtworzy się pełnowartościowa kość, w którą następnie ponownie wszczepi się nowy implant. Zabieg taki nazywamy sterowaną regeneracja kości. A więc nie wszystko jest stracone !
Czy w trakcie wgajania się implantu będę chodził bez zęba?
Jeśli implant jest wszczepiony w miejscu widocznym, w odcinku przednim, wówczas lekarz zaproponuje uzupełnienie tymczasowe. Pacjent użytkuje je w okresie integrowania się implantu z kością szczeki. W pewnych sprzyjających okolicznościach można od razu dołączyć do wszczepionego implantu koronę tymczasową. Po pewnym czasie zostanie ona zamieniona na koronę ostateczną. Takie rozwiązanie nie zawsze jest możliwe a decyduje o tym lekarz implantolog tuż po zabiegu.
Kto nie może mieć wszczepionego implantu?
Większość ludzi może mieć wszczepiony implant i przyjmie się on bez problemów. Choroby przewlekłe takie jak cukrzyca, ch. układu krążeniowego, jeśli tylko są leczone i dobrze prowadzone przez lekarza ogólnego, nie stanowią przeciwskazań. Pewne schorzenia psychomotoryczne mogą być poważnym ograniczeniem choćby z tego względu, że taki pacjent nie może właściwie zadbać o higienę wokół implantu. Codzienne szczotkowanie, a zwłaszcza nitkowanie, jest b. ważne a długotrwałe zaniedbania mogą doprowadzić do utraty zęba na implancie. Palenie dużej ilości papierosów jest istotnym czynnikiem ryzyka w implantacji, ponieważ jak udowodniono, upośledza proces integrowania się implantu z kością. Inne przeszkody, to wszystkie te przeciwskazania, które maja znaczenie przy wszelkich zabiegach chirurgicznych np. zaburzenia krzepnięcia krwi itp.
Czy jeśli choruje na paradontozę, to implant się przyjmie?
Paradontoza nie jest przeciwskazaniem do leczenia implantologicznego. Wręcz przeciwnie. Obecnie uważa się ,że nie należy zbyt długo zwlekać z usunięciem rozchwianego zęba jeśli nie można innymi metodami chirurgicznymi polepszyć sytuacji. Taka zawłoka skutkuje utratą kości szczęki i może w przyszłości utrudnić wszczepienie implantu. Trzeba pamiętać ,że aby wszczepić tytanowy implant potrzebujemy odpowiednią ilość kości. Decyzję taką podejmuje lekarz leczący ch. przyzębia po dogłębnej analizie i akceptacji pacjenta.
Druga wizyta: konsultacja z chirurgiem - implantologiem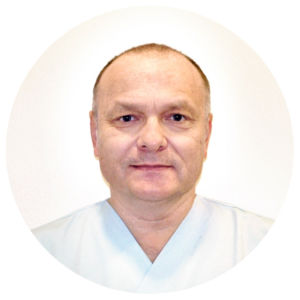 Specjalista chirurg-impalntolog po dokładnym badaniu i zapoznaniu się z badaniami radiologicznymi, decyduje o możliwości leczenia implantami. Omawia z pacjentem jak wygląda zabieg oraz podaje koszt wszczepienia implantu.
Nasza Klinika od wielu lat współpracuje z doświadczonym chirurgiem- implantologiem dr Jackiem Góreckim
Jacek Dariusz Górecki
lekarz medycyny
chirurg stomatolog
Konsultant Systemów implantologicznych Zimmer dental  USA
| | |
| --- | --- |
| absolwent Wydziału Lekarskiego | WUM w  1987 |
| absolwent Oddziału Stomatologii | WUM w 1991 |
| specjalizacja z chirurgii stomatologicznej | WIM |
| praktyka prywatna od 1991 roku | |
| doświadczenie w implantologii od 2002 roku | |
Współautor licznych kursów i wykładów z zakresu implantologii
Współprowadzący kursów implantologicznych w Zimmer Institute  Winterthur ,Szwajcaria
W 2019 roku ukończył  dwuletnie szkolenie implantologiczne na Uniwersytecie Nowojorskim i uzyskał certyfikat:
New York University College of Dentistry
Linhart Continuing Dental Education Program
Implantology and oral rehabilitation
Uczestnik wielu szkoleń implantologicznych w Polsce i zagranicą  między innymi;
Zimmer Institute – Carlsbad USA  2006
Zimmer Implantology  Days – Berlin   2008
Peridontology in implants  treatment – Berlin 2009
New York College od Dentistry – 2010
New York College od Dentistry – 2014
Steigmann Institute – Heidelberg   2015
Sofia Dental Meeting – 2015
Steigmann Institute – Berlin  2016
Konsultant Systemów implantologicznych Zimmer dental  USA
Ilość wykonanych zabiegów implantacyjnych
Trzecia wizyta: zabieg wszczepienia implantów
Zabieg jest stosunkowo krótki i bezbolesny, zawsze przeprowadzany w znieczuleniu miejscowym. Następnie implant musi się wgoić , zintegrować z kością, co trwa od 3 do 5 miesięcy.
Czwarta wizyta: odbudowa protetyczna oparta na implantach.
Lekarz protetyk – implantolog ( dr Staniszewska lub dr Lipniacka) przygotowuje estetyczne, dobrane pod pacjenta uzupełnienie protetyczne, a następnie łączy je z implantem. Teraz wszystko wygląda bardzo naturalnie, nie ma śladu po brakujących zębach, a pacjent może się cieszyć pięknym uśmiechem.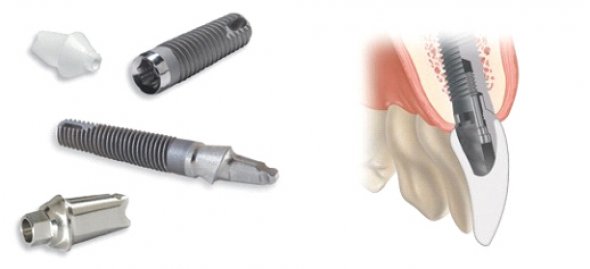 W Klinice Zubar najczęściej korzystamy z implantów amerykańskiej firmy Zimmer Dental
Zimmer Dental jest jedną z największych na świecie firm w dziedzinie implantologii.
Co 10-ty wszczepiany na świecie implant stomatologiczny to produkt Zimmer Dental.
Więcej informacji można uzyskać pod adresem: