Dlaczego należy leczyć wadę zgryzu, dla zdrowia czy dla urody?
Jak wygląda leczenie ortodontyczne i jak długo trwa?
Proste zęby są zdrowsze
Odpowiedzi na te i inne pytania znajdziecie Państwo w wywiadzie jaki udzieliła pracująca w klinice Zubar
lekarz ortodonta Agnieszka Kolibabska, dla portalu gazeta.pl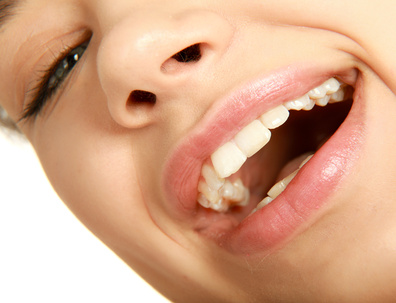 Nachodzące na siebie, krzywe zęby lub nieprawidłowy zgryz często są przyczyną dyskomfortu, a nawet wstydu. To też niebezpieczeństwo chorób, np. zaburzeń w stawach skroniowo-żuchwowych. Nowoczesna ortodoncja pomaga w niemal bezbolesny sposób zlikwidować ten problem
Agnieszka Danowska: Kiedy należy zacząć leczenie ortodontyczne?
dr Agnieszka Kolibabska: Zabrzmi to może prozaicznie, ale moment rozpoczęcia leczenia ortodontycznego zależy przede wszystkim od wady zgryzu u danego pacjenta.
Zdarzają się przypadki złożonych wad wrodzonych, których diagnostykę i leczenie rozpoczynamy zaraz po urodzeniu. W takich przypadkach pacjenci wymagają wieloetapowego i wielospecjalistycznego leczenia przez cały okres wzrostu.
Z reguły klasyczną obserwację ortodontyczną rozpoczynamy wraz z pierwszą wizytą dziecka u stomatologa, w trakcie której oceniamy układ kostny i zgryzowy dziecka, a także układ mięśniowy w obrębie szczęk. W zależności od potrzeb decydujemy o rozpoczęciu lub nie leczenia (lub profilaktyki) ortodontycznej.
Dla ułatwienia możemy przyjąć, że dziecko będące pod ogólną opieką stomatologa powinno odwiedzić ortodontę w momencie, kiedy na miejscu zębów mlecznych pojawiają się zęby stałe, a także – tuż przed okresem intensywnego wzrostu.
W przypadku pacjentów dorosłych leczenie może rozpocząć się w dowolnym momencie i często jest wstępem do leczenia protetycznego lub implantologicznego.
Jak długo trwa leczenie ortodontyczne? Czy to tylko okres noszenia aparatu, czy powinniśmy być gotowi na dłuższą "przygodę"?
Standardowy czas leczenia aparatem stałym, bo o to głównie pytają pacjenci, zajmuje od 12 do 30 miesięcy. Zdarzają się przypadki leczenia krótszego, jak i dłuższego, co wynika z rodzaju wady i wybranego przez ortodontę sposobu leczenia. Leczenie pacjentów w okresie wzrostu może wymagać kilku etapów i trwać z przerwami odpowiednio dłużej.
Wiele osób boi się leczenia ortodontycznego, bo wiedzą, że prostowanie zębów jest bolesne. Czy w ostatnim czasie pojawiły się jakieś nowoczesne metody zmniejszające ten dyskomfort?
Obecnie staramy się do przesuwania zębów stosować minimalne, skuteczne siły. Chodzi o to, aby aparat oddziaływał przez cały czas ze stałą siłą i nieustannie przesuwał zęby, w granicach fizjologicznej akceptacji tego ruchu przez tkanki otaczające ząb. Nowoczesne możliwości daje stosowanie aparatów samoligaturujących, które minimalizują ewentualny dyskomfort.
O czym powinny pamiętać osoby, które chcą zdecydować się na leczenie ortodontyczne?
Przed rozpoczęciem leczenia należy znaleźć dobrego specjalistę, który w przystępny i wyczerpujący dla pacjenta sposób przedstawi mu plan i czas trwania leczenia oraz będzie na bieżąco odpowiadał na wszystkie pytania i rozwiewał ewentualne wątpliwości. Jednym z kluczy do sukcesu w leczeniu ortodontycznym jest zaufanie, jakim pacjent darzy swojego lekarza.
Przed samym założeniem aparatu stałego ważne jest, aby zęby były wyleczone i oczyszczone, przyzębie zdrowe lub pod kontrolą periodontologa. Trzeba zdawać sobie sprawę z konieczności utrzymywania właściwej higieny podczas leczenia, a także z pewnych ograniczeń w spożywaniu pokarmów. W trakcie leczenia nie należy spożywać bardzo twardych pokarmów, nie powinno się także odgryzać kęsów przednimi zębami.
Czy leczenie ortodontyczne to tylko kwestia estetyki, czy także zdrowia?
Leczenie ortodontyczne to przede wszystkim kwestia zdrowia. Estetyka oczywiście zawsze będzie u pacjentów na pierwszym miejscu, jednak nawet w takich przypadkach za brakiem ładnego uśmiechu często kryją się problemy zdrowotne. Wady ortodontyczne i nieprawidłowości zębowe mogą generować lub nasilać zaburzenia w pracy stawów skroniowo-żuchwowych, problemy z przyzębiem, kłopoty z wykonaniem prawidłowych rekonstrukcji protetycznych i implantoprotetycznych, występowanie próchnicy na trudno dostępnych powierzchniach, powodować trudności z prawidłowym utrzymaniem higieny. U wielu pacjentów dorosłych leczenie ortodontyczne to fundament prawidłowo i logicznie przeprowadzonego leczenia protetycznego lub implantologicznego.
* Dr Agnieszka Kolibabska jest specjalistą ortodoncji, pracuje w warszawskiej klinice Well Now Dental Clinic