Jaki jest mechanizm powstawania płytki i kamienia nazębnego?
Dlaczego należy usuwać kamień nazębny?
Podstawowe zabiegi profilaktyczne.
Profilaktyka, czyli jak wygrać z bakteriami
Powierzchnię naszych zębów kolonizują bakterie tworząc swoisty biofilm zwany płytką nazębną. Ta zorganizowana społeczność wielu bakterii, w tym chorobotwórczych, stanowi dla nas i naszego zdrowia poważne zagrożenie. Na szczęście posiadamy układ odpornościowy, który utrzymuje wroga na odległość. Jednak kiedy siły obronne ulegają osłabieniu, bakterie atakują wywołując poważne choroby takie jak próchnica zębów i zapalenie przyzębia.
Nasze codzienne zabiegi szczotkowania zębów to również walka z wciąż odnawiającym się biofilmem.
Jeśli płytka bakteryjna nie zostanie w porę usunięta (mechanicznie, szczotką) z powierzchni zęba,
mineralizuję się i zmienia w kamień nazębny.
Kamień nazębny, zwłaszcza ten poddziąsłowy jest niezwykle niebezpieczny. Jego obecność wywołuje cały ciąg niekorzystnych zjawisk o charakterze przewlekłego zapalenia, a w efekcie zniszczenie tkanek otaczających ząb. Taki jest mechanizm powstawania choroby przyzębia – parodontozy. Niestety powstałego kamienia nazębnego nie można usunąć szczotką z powierzchni zęba.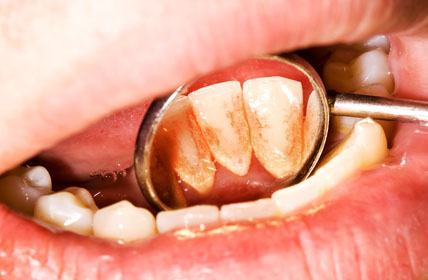 Jeśli zobaczysz u siebie taki obrazek, jest to sygnał by jak najszybciej zgłosić się do swojego stomatologa z prośbą o profesjonalne czyszczenie zębów z osadu.
Wtedy lekarz lub higienistka wykona zabiegi czyszczące takie jak skaling i piaskowanie.
Równie ważna, jak okresowe czyszczenie zębów z osadu, jest poprawa techniki szczotkowania zębów, czy używanie nitki dentystycznej. Ten obszar profilaktyki zależy całkowicie od pacjenta!
Pacjenci powinni pytać swojego lekarza jak mogą poprawić swoją higienę jamy ustnej?
Skuteczne usuwanie płytki nazębnej to podstawowy warunek ochrony zębów przed próchnicą. Dodatkowo zalecane jest okresowe pokrywanie zębów lakierami fluorowymi. Zawarty w nich fluor wbudowuje się w strukturę zęba czyniąc go bardziej odpornym na działanie kwasów bakteryjnych, czyli na powstawanie próchnicy.