Jakie możliwości daje współczesna protetyka,
Dlaczego korona pełnoceramiczna i cyrkonowa są lepsze od tych na bazie metalu?
Co to są wypełnienia porcelanowe i kiedy warto wykonać licówkę?
Protetyka
Współczesna protetyka, wychodząc naprzeciw oczekiwaniom pacjentów, zmienia szybko swoje oblicze. Odchodzi od tradycyjnych technik, które obowiązywały dziesiątki lat, poszukuje nowoczesnych materiałów dających nowe możliwości.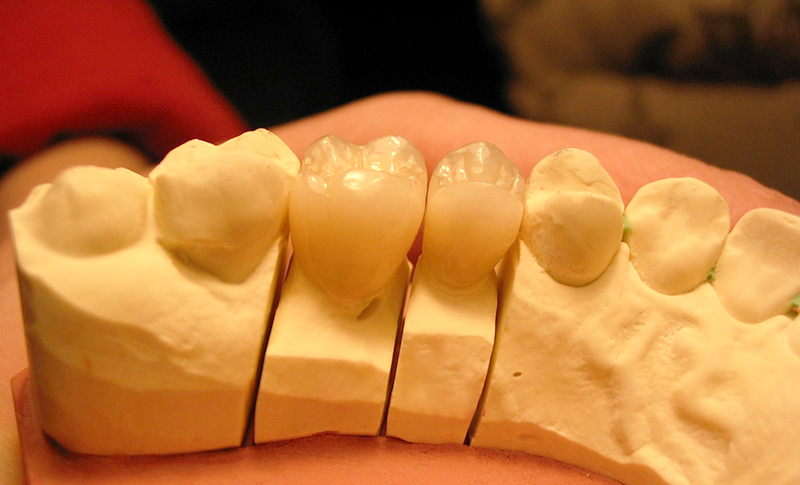 Korony pełnoceramiczne, również te na bazie tlenku cyrkonu zwane koronami cyrkonowymi, to najbardziej estetyczne odbudowy zębów zniszczonych, przebarwionych bądź złamanych.
Nowoczesna ceramika dentystyczna daje tak wiele możliwości, że ząb pokryty koroną jest często nie do odróżnienia od zęba naturalnego. Podobnie korony cyrkonowe (oprócz dużej wytrzymałości mechanicznej) charakteryzują się wysoką przenikalnością świetlną, dzięki czemu cyrkonowe uzupełnienia protetyczne zachowują właściwości optyczne naturalnych zębów.
Wiele zależy tu od kunsztu i artyzmu technika dentystycznego. Osiągnięcie doskonałego efektu estetycznego to całkowicie jego zasługa.
W klinice Zubar prace porcelanowe wykonuje technik dentystyczny Pani Ewelina Ryfa-Jabłońska.
Oto przykład jednej z prac.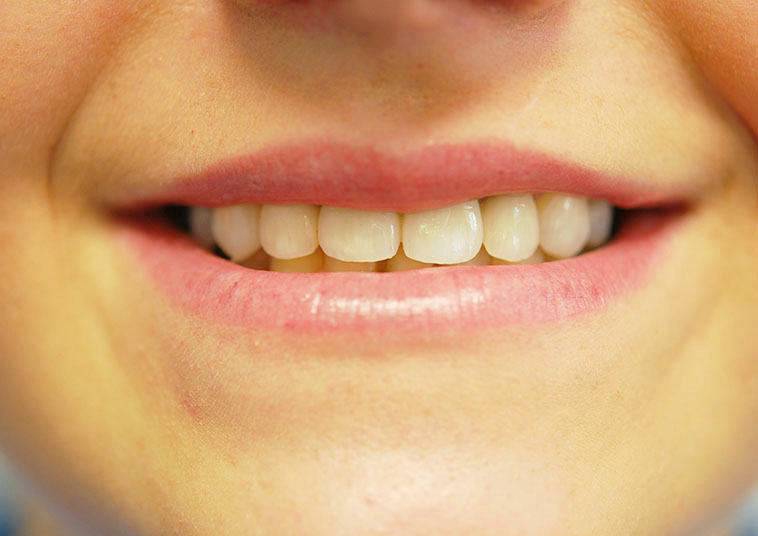 U tej młodej pacjentki 4 zęby sieczne pokryto koronami cyrkonowymi.
Dzisiejsze mosty protetyczne nie muszą już zawierać metalu. Został on zastąpiony tlenkiem cyrkonu utwardzonym w specjalnej technologii. Mosty na bazie cyrkonu są bardzo wytrzymałe mechanicznie i trwałe. Dodatkową ich zaletą jest fakt, że są neutralne dla tkanek i nie wykazują żadnych tendencji alergizujących. W ten sposób współczesna protetyka wychodzi naprzeciw oczekiwaniom pacjentów eliminując metal z uzupełnień protetycznych. Analogicznie wkłady koronowo-korzeniowe ze stopów metali zastępowane są przez wkłady z włókien szklanych.
Licówki porcelanowe to uzupełnienia, które mogą stworzyć nowy, atrakcyjny uśmiech. Charakteryzuje je minimalna ingerencja w zdrowe tkanki zęba, a przy tym doskonały efekt końcowy. Licówki to inaczej cienkie płatki porcelany przyklejane od widocznej strony zębów przednich. Dzięki nim możemy wyeliminować wszystkie estetyczne niedoskonałości: zmienić kolor, kształt oraz długość zębów. W efekcie znacząco poprawiamy zaburzoną estetykę uśmiechu.
Nie są to uzupełnienia zarezerwowane dla celebrytów i gwiazd filmowych. W naszej klinice wykonujemy (przyklejamy) licówki dziewczynom i chłopakom w baaardzo różnym wieku !
Ten pacjent (poniżej ) na wskutek urazu utracił duży fragment zęba, który został ostatecznie pokryty licówką.
W przypadku bardzo zniszczonych zębów bocznych warto rozważyć odbudowę z wykorzystaniem rozwiązań typu inlay, onlay, overlay. Laboratorium protetyczne odtwarza ( z czystej ceramiki) brakujący fragment zęba, a lekarz przykleja specjalnym klejem . W ten sposób ratujemy zęby bardzo zniszczone, które jednak zachowały swoją żywotność, przywracając im dawny wygląd i prawidłowe kontakty styczne z sąsiednimi zebami.
*Jeśli myślisz z o poprawie wyglądu swoich zębów umów się koniecznie na bezpłatną wizytę konsultacyjną. Zaproponujemy najlepsze dla Ciebie rozwiązania i zaplanujemy leczenie w oparciu o najnowsze osiągnięcia współczesnej protetyki.