Odpowiedzi na pytania najczęściej zadawane przez pacjentów, w temacie STOMATOLOGIA DZIECIĘCA.
Jak powinna wyglądać wizyta adaptacyjna, czyli pierwsza wizyta małego pacjenta w gabinecie ?
Pierwsza wizyta, zwłaszcza małego dziecka powinna mieć charakter adaptacyjny. Jej celem jest zapoznanie dziecka z gabinetem stomatologicznym i nie wiąże się z  leczeniem. Czekając w poczekalni dobrze jest zająć dziecko zabawą, np.  w kąciku przygotowanym dla dzieci. Pacjent jest witany z uśmiechem przez Lekarza i Asystentkę, a następnie wspólnie poznajemy fotel stomatologiczny i różne,, fajne'' urządzenia takie jak ssak, ślinociąg, lusterko itp. Wszystkiego można dotknąć i  pobawić się ! Dziecko stopniowo oswaja się i nabiera zaufania do miejsca , którego wcześniej tak się obawiało. Na koniec wybiera sobie drobną zabawkę na pamiątkę wizyty w gabinecie. Taka wizyta powinna być wstępem do następnych regularnych wizyt kontrolnych, raz na pół roku , na których lekarz może wykonać zabieg profilaktyczny lub zlokalizować próchnicę w zębie na wczesnym etapie i szybko wyleczyć.
Ten schemat postępowania daje szanse na bezproblemowe kolejne wizyty dziecka u dentysty, spokój rodziców i zdrowe zęby pociechy.
Co można zrobić aby zapobiec problemom z leczeniem próchnicy zębów u dzieci?
Służą  temu zabiegi profilaktyczne które wzmacniają zęby i czynią je bardziej odporne na działanie próchnicy. Najczęściej  wykonywane są:
Lakierowanie zębów czyli fluoryzacja
Fluoryzacja wszystkich zębów jest to pokrycie zębów lakierem lub innym preparatem zawierającym fluor. Stosowana zarówno w przypadku zębów mlecznych jak i  stałych. Zalecana częstość powtarzania zabiegów średnio co 6 miesięcy , o ile lekarz nie zdecyduje inaczej.
Lakowanie zębów
Zabieg najczęściej wykonywany w świeżo wyrżniętych zębach stałych, trzonowych i przedtrzonowych. Polega na zalaniu bruzd i zagłębień na powierzchni zęba specjalną, utwardzaną światłem żywicą .Wykonuje się tę czynność jeden raz. Zabieg jest szybki, bezbolesny i bardzo skuteczny. W znakomitej większości zalakowanych zębów nie dochodzi do próchnicy na powierzchniach żujących.
Mocno uczulam rodziców 5-6 latków by dopilnowali zalakowania pierwszych zębów trzonowych czyli szóstek. Uwaga ! Pojawienie się ich nie jest poprzedzone wypadnięciem mleczaka  i łatwo ten moment przegapić, a szóstki psują się – niestety –  bardzo szybko.
W czym pomaga sedacja wziewna ?
Sedacja wziewna z wykorzystaniem podtlenku azotu działa w ten sposób, że wyłącza strach i wszelkie niepokoje, obawy związane z leczeniem. W trakcie zabiegu pacjent  wdycha przez maseczkę nałożoną na nos, specjalną mieszankę gazów: tlenu i podtlenku azotu. Niezwykłe właściwości tej mieszanki usuwają lęk, niepokój,  powodując u człowieka uczucie zrelaksowania  i nawet pewnego rozbawienia. Stąd potoczna nazwa ,, gaz rozweselający''. Gaz ten jest całkowicie bezpieczny dla zdrowia i dozowany przez specjalistyczny sprzęt. Dodatkowa zaletą jest to,  że jego  działanie ustępuje prawie natychmiast po zaprzestaniu podawania. Bezpośrednio po wizycie samopoczucie i nastrój pacjenta wracają do stanu wyjściowego.
Dzięki uspokojeniu wziewnemu można przeprowadzić leczenie u dzieci, które wcześniej odmawiały jakiejkolwiek współpracy i  po prostu nie chciały otworzyć buzi.
Do zabiegu z użyciem sedacji trzeba się przygotować . Konieczna jest  wcześniejsza wizyta konsultacyjna i rozmowa z lekarzem.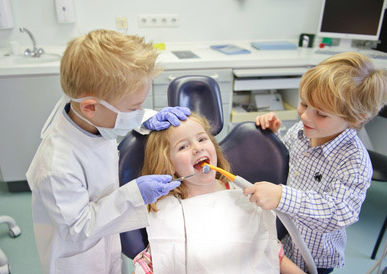 W Klinice Zubar chętnie przyjmujemy małych Pacjentów.
Mamy w tym duże doświadczenie.
Dzieci są najczęściej zestresowane wizytą u lekarza. Nie wiedzą czego się spodziewać , boją się obcego miejsca. Aby te obawy zmniejszyć najlepiej podejść do tematu z wyprzedzeniem i planowo. Rodzicom radzimy umówić się z małym dzieckiem ( już w wieku 2,5 -3 lat) na pierwszą wizytę, na której dziecko oswaja się z gabinetem oraz poznaje lekarza i asystentkę. Na takiej wizycie nie wykonuje się żadnych zabiegów. Ma ona charakter poznawczy i z założenia ma być ciekawa i bardzo przyjemna dla dziecka.
Jak wygląda wizyta adaptacyjna ?     Patrz wyżej, odpowiedź na pytanie.
Kolejnym krokiem są częste (minimum raz na pół roku ) wizyty kontrolne związane z zabiegiem fluoryzacji zębów, sprawdzeniem poprawności mycia zębów , nawyków żywieniowych lub leczeniem.
W Klinice ZUBAR wizyty kontrolne, związane tylko z przeglądem uzębienia,  są bezpłatne !
Drogi Rodzicu postępuj zgodnie z tą receptą a Twoje dziecko polubi wizyty w gabinecie stomatologicznym, ty zaś zaoszczędzisz sobie wielu stresów.
Zaufaj nam -to jest możliwe !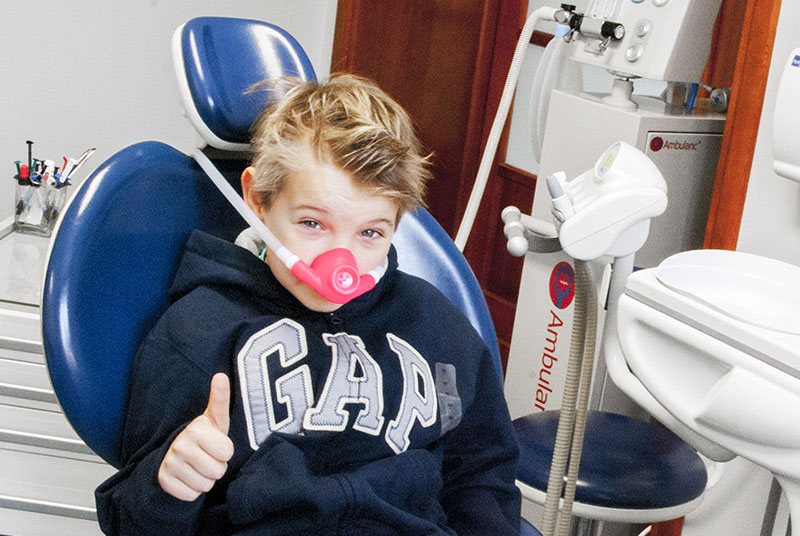 Kiedy mały pacjent trafia do gabinetu już z problemem, najczęściej bolącym zębem, jest to sytuacja bardzo trudna dla dziecka a także dla rodziców . Staramy się wtedy zrobić wszystko co w naszej mocy , choć bywa, że nie jest to łatwe .Wtedy z pomocą przychodzi nam sedacja wziewna czyli uspokojenie wziewne, zwane popularnie gazem rozweselającym.
Dzięki uspokojeniu za pomocą gazu rozweselającego, możemy przeprowadzić leczenie u dziecka , które wcześniej odmawiało  współpracy i po prostu nie chciało otworzyć buzi.
 Na czym polega ta metoda?   Patrz wyżej, odpowiedz na pytanie, co to jest sedacja wziewna?
Klinice Zubar leczeniem dzieci z pomocą gazu rozweselającego zajmują się
 dr Katarzyna Lipniacka i dr Agnieszka Adamska